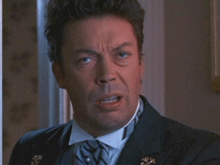 Mr Hector is the secondary antagonist of Home Alone 2: Lost In New York.
He is portrayed by Tim Curry.
Home Alone 2: Lost In New York
When Kevin McCallister gets to New York he goes to the Plaza Hotel and purchases a room with his dad's credit card (He accidently took it earlier in the film). He went under the assumption that his dad would be coming soon. One night, Mr. Hector sneaks into Kevin's room under suspicion, he then hears Kevin's "Dad" singing in the shower (Actually an inflatable clown with a recording of Kevin's Uncle when Kevin was playing with his tape recorder earlier in the movie). Kevin then scares off Mr. Hector but not before tripping on a chair.
Mr. Hector later finds out that the credit card was stolen. He later confronts Kevin later in the story, and chases him to Kevin's room where Kevin tricks Mr. Hector and his staff as he escapes the hotel before he is eventually caught by Harry and Marv.
It was presumed that he was in trouble from Kate also blames him for making Kevin leave. However, Kevin's mother slaps him for trying to keep her from going out to look for Kevin and for causing Kevin to leave in the first place. Embarassed, Mr. Hector fought back tears as he advised Kate to brace herself for the cold weather. He was always curious about Kevin as he entered the lobby. He was never seen again after this.