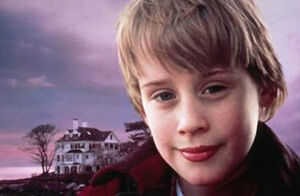 Henry Evans is the main villain of the 1993 horror film "The Good Son". It is, however, undecidable whether he is the title character because he is the son, or if it is his cousin and the hero Mark because he's the good guy. Henry is an evil, psychopathic boy who likes killing and hurting people. He is played by Macaulay Culkin, who was nominated for the MTV Award for Best Villain.
Henry appears to nice to his cousin, Mark, who lost his mother recently, and whose father is on a business trip to Tokyo, but after this discussion and that of the death of Henry's infant brother Richard, Henry reveals his fascination with death, making life hard for Mark.
Near the end, Henry tricks his mother into going for a walk with him in the woods, where she finally asks him if he killed his baby brother Richard. Coldly, his interrogative, indirect response is "What if I did?". He then pretends to be about to kill himself, but he surprises his mother and shoves her off the cliff. He is about to drop a large rock on her, but Mark, who had broken out of Henry's father's study, comes to the rescue and they fight. Henry drops the rock that falls into ocean. Neither seems to win when they fall over the cliff just as Susan gets up from the cliff and tries to save them both. However, it is hard to choose one, as either one needs both of her hands to be pulled up. Eventually, having known that Henry was evil and Mark was trying to help, Susan releases Henry to fall to his death upon the rocks on the sea and rescues Mark. Henry's dead body is finally shown when the waves wash it away.